Things to do in the Last Days of Summer
Published by: Curtis Williams 25/08/2017 at 4:46 pm
Unfortunately the end of summer isn't far away. But this doesn't mean that there isn't anything to look forward to! There is still plenty on, check out what Weymouth and the rest of Dorset has on offer.
---
It's free, it's fun, it's thrilling… Bournemouth Air Festival will bring you 4 days of fun and excitement on the ground and in the air! With a Red Arrows display (which were amazing at Weymouth Carnival) kicking the festival off on the Thursday at 6pm and again on the Friday at 3.30pm… and again on the Sunday at 12pm! With cars, live music and more on the Sunday taking you back to the 1940's, there's certainly plenty on.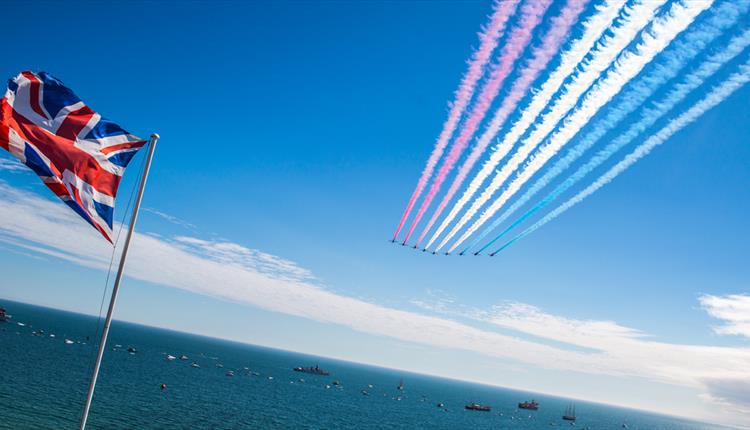 On "haturday" 2nd September, Bridport Hat Festival offers a range of music, hat & craft stands, competitions, displays, trade stands and more all day long from 9am-6pm! Visit their website for more information.
Maumbury Rings in Dorchester brings you 'Landance' on 2nd September. "Landance is creating a unique and exciting promenade performance this summer, starting at dusk in the Maumbury Rings, a Neolithic Henge in central Dorchester, leading audiences into a fantastic urban landscape as darkness descends. Dancers from Impermanence Dance Theatre and local youth dancers, combined with live music, costume and lighting, will animate this brilliant performance. We perform come rain or shine; please wear waterproofs if wet."
Tickets are free, but need to be booked through Eventbrite.
Since 1840, The Dorset County Show has been an annual tradition. The 2 day show celebrates the agricultural and rural life of our County – Dorset! The show holds a range of competitive classes, from cattle to sheep sheering to homecraft and more. As well as this, you can experience a great range of food and drink from local producers, entertainment from the main ring, a range of trade stands and showcases of rural skills! For more information visit the show under our events section or visit their website.
Something you don't see every day… Come and watch the races as boats come head to head in the Spinlock IRC Southern Area Championships. Or if you're a sailor yourself, you can enter the race! More information at Weymouth Regatta.
Ironman 70.3 will bring thousands of athletes to England's south coast in September for the ultimate one-day test of endurance. The course includes a 1.2 mile swim in Weymouth Bay, a 56 mile bike ride through the Dorset countryside and a 13.1 mile run finishing on Weymouth Esplanade. As host venue of the London 2012 Olympic and Paralympic sailing events, the Weymouth and Portland area is used to staging international sport at the highest level. Visit their website for full course details or our events page for more information.
You might also be interested in:
STAY UP
TO DATE
Sign up to our free newsletter to receive exciting news and offers sent straight to your inbox.